IoT Plant monitor with Sigfox
This device can be used to remotely monitor crops growth conditions (e.g. asparagus, potatoes, grapes…) and estimate the best moment for harvest. It can also be configured to issue warning of icing conditions.
To do so, it measures air or ground temperatures at different depths (0cm, 5cm, 20cm, 40cm) and send them over periodically (e.g. every hour) to the cloud using the Sigfox network.
Controlled by a low power STM32F4XX micro controller, the hardware integrates a one-wire interface which can read temperatures from up to eight sensors
A GPS module and a 3-axis accelerometer are present on the board to determine sensor position and attitude
One wire interface (can read up to 16 temperatures)
USB connection for reflashing and testing
Very low power 32-bit Arm Cortex CPU
Low power GPS module
Low power Sigfox module (up to 144 messages/day)
Optimized energy consumption (estimated 3 years operation with one battery)
3-axis Accelerometer
Ground humidity sensor
Integrated battery health estimator
Optional soil humidity sensor
Extension connector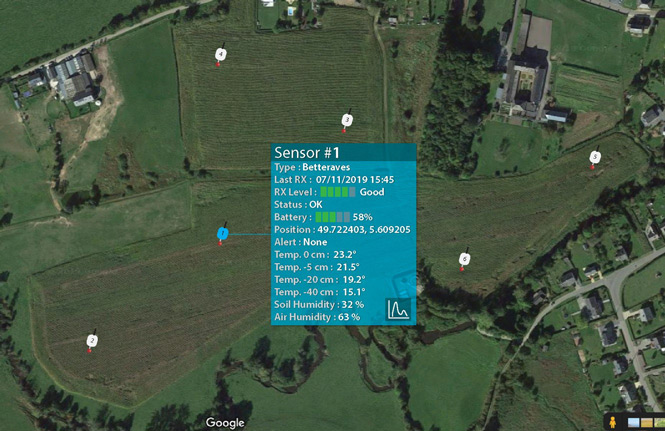 IoT plant monitor, antenna & Sigfox servers
If you are looking for more information, don't hesitate to contact us!