High power H-bridge automotive valve driver/tester
Designed specifically to drive automotive actuators such as EGR valves, turbo wastegates and throttle valves, EmTroniX H-bridge driver accurately measures valves dynamic performances, electro-mechanical characteristics and offers advanced control methods.

This equipment is intended to be used on development test benches, durability test stands and production lines.

The embedded software can execute a series of standard ​test schemes (sensor range identification, response-time and hysteresis) with integrated data acquisition/logging and test results processing. It further includes an advanced position controller, a complex position/PWM profile generator and a test/profile sequencer primarily intended for durability purposes.​​​​​
> The use of the latest FPGA technology allows an unprecedented control and sampling performances as required in today automotive component developments.
> All high-level functions are integrated into and executed by the driver at the reception of predefined commands sent through the CAN bus, making its integration and operation straightforward from the master device's standpoint.
> This controller can be used indistinctively in engineering labs for component developments, on durability test benches to generate cycling profiles or on production lines for final quality checks.
Configurable soft-stop logic
Configurable sensor range identification procedure
Configurable response time test with integrated results analysis
Configurable hysteresis test with integrated results analysis
Advanced PID position controller
Integrated complex position/PWM profile generator
Public CAN command/answer message formats
Configurable continuous CAN data streaming
Up to 8 drivers controllable simultaneously
Automatic Excel test reports generation
Complex profile editor included
Durability test/profile sequencer
Calibration editor
Test data acquisitions display and recording functions
Output drive current range :  -15A to +15 A
FPGA-based active/dynamic current limitation
FPGA-based true RMS current calculation
Low-side current recirculation (active/passive) in halve-bridge mode
Max. drive voltage : 26 V nominal, 35 V absolute
Variable internal power supply : 6 V to 26 V
Optional external power supply input with display
High-precision 5V sensor voltage supply.
FPGA-based PWM generator : 0.1 % resolution, 1 Hz to 20 kHz
Integrated configurable SENT interface
Dual high-precision position sensor inputs
Configurable digital IOs (SENT, external PWM control, trigger)
Configurable analog output for instrumentation/system monitoring
2Mb of sampling memory (optional)
16 bits high-precision sampling (optional) : 2mA and 2mV resolution
Sampling frequency : 20kHz for response time, 500 Hz for hysteresis
Endurance profile provided by the customer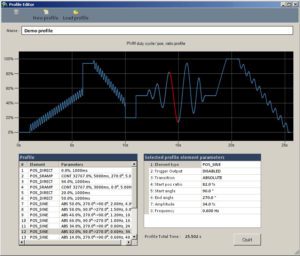 If you are looking for more information, don't hesitate to contact us!