Engine crank cam knock sensor simulator
EmTroniX developed this stand-alone automotive crank-angle-based signal generator to replicate crank & camshaft position sensor signals (e.g. 58X) on off-engine automotive component test benches for control algorithm developments.
It can also be used in any application where angular reference/ phasing signals are needed.
> The latest FPGA-technology playback any digital (hall effect) or analog (magnetic) crank sensor signal pattern along with up to four digital CAMs and two digital triggers with a resolution of 0.1° over 720° (7200 points per channel) at speeds from 10RPM up to 16000RPM.
> An internal generator manages usually the virtual engine speed but we can change the configuration in order to be triggered by an external source. An additional analog output was integrated, primarily to generate knock patterns, but it can be used to replay any analog signal in the range of +/-5V.
> The angular offsets between crank and cams can be individually adjusted while the generator is running using the control buttons (this function was initially intended for CAM phaser developments). So can also be the amplitude of the knock signal (0 to 100%).
> The functions assigned to the two secondary control button can be customized to best match to the application specificity.
Automotive power supply voltage range (6..18V)
FPGA-based control logic for high generation timing accuracy
One digital or analog (14bits DAC, -15V to +15V) crank output
Four digital cam outputs with live-adjustable angular offset (+/- 180°)
Two multi-purpose digital trigger outputs
One analog (14bits DAC, -5V to +5V) knock output with live-adjustable output level
7200 points per signal pattern (Crank, Cams, Knock) → 0.1° resolution over 720°
Signal patterns can be flashed in the simulator's memory from an MS Excel worksheet using the PC software .
The simulator can contain up to eight different Crank/Cams/Trigger sets of patterns (only one knock pattern)
All simulator control parameters can be accessed via the LCD interface and the PC GUI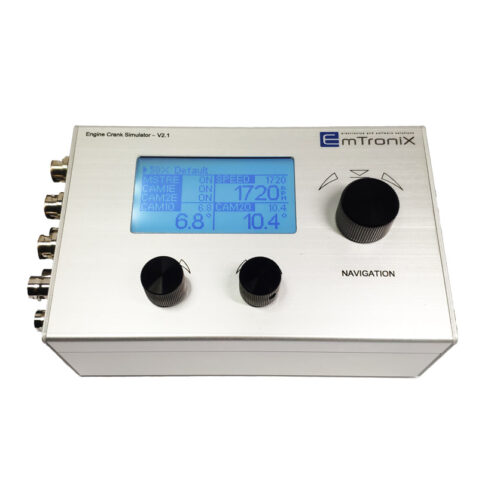 If you are looking for more information, don't hesitate to contact us!